Immortal link to this news.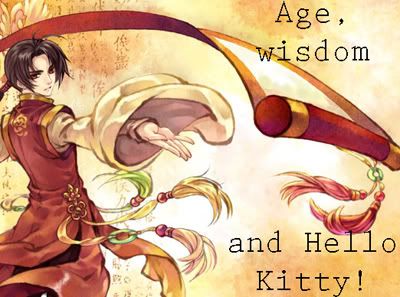 Following my tradition of commentary on
Funimation
's casting choices for the English dub of
Hetalia: Axis Powers
, it is time to blog about
Clarine Harp
, the pick to play China!
As always, I'm a newb when it comes to
Hetalia
, so my analysis could easily be very flawed.
Once again, an episode of
Hetalia World Buffet
was included with this news update from
Funimation
. Feel free to chow down on Chinese food with
Clarine
and Char! In case you just want to skip that though, here's some release info about series extras:
Episode 2 Commentary (Italy & Germany) "The Flower Apron,"
Episode 9 Commentary (U.S.A. & Russia) "The Cold War,"
Episode 12 Commentary (France & U.K.) "Nice Dover,"
Episode 16 Commentary (Japan & China) "Far East Brothers,"
"The Hidden History Hidden Within Hetalia" Historical notes,
Show Comments by Director Bob Shirahata,
Director Bob Shirahata's Ending Sequence Comments,
Textless Closing,
Trailers
Not a whole lot of info here besides the (parial?) list of extras for
Hetalia
. A little fun in a restaurant, a little silliness and a little more with two lovely ladies of
Funimation
!
Now, I'll express my opinion on China's new English VA,
Clarine Harp
's portrayal so far. First, I feel that the accent here works very well. It's not too thick and it conveys a sense of aged wisdom. There's something subtly playful about it. I like this vocal characterization very much.
Also, if they hadn't told me who was doing it, I would not have believed it. Seriously, what the heck did
Clarine Harp
do to sound like that? She sounds like a guy! She totally does. I mean, damn.
Moving along, this choice of first look scene is very appropriate, conveying a feeling of long-suffering that culminates in a bit of humor. This is in keeping with the depth of history that modern China carries. Although from what I've read the living nation is a modest 4000, well, lets just say that
China goes back a long way.
It makes sense he'd be a bit relaxed about things. Heck, he's been dealing with people forever, considering that
fossils of Peking Man found in the country may date back as far as 780,000 years ago
, when fire was the new big thing.
Modern China's turn to the authoritarian side
isn't too far from the historical suffering brought on by the
numerous battles and struggles
that have led to it either, giving a feeling of stability out of the chaos.
In other words, China's very old and has been through a whole lot, but he keeps trying. It makes a certain degree of sense that they picked
Clarine Harp
to voice him, given her extensive body of work as both a VA and as a DVD producer. Here, she shows off an impressive skill at sounding like a man. I honestly can't remember any voice like this one from her before. I usually think about how she sounds in roles like Jody "Blue-Eyes" Hayward in
El Cazador De La Bruja
or Sei in
Burst Angel
. A sexy yet deep voice that makes me think of chocolate. This voice by
Clarine
is new to me.
Her performance here is not merely without defect in my opinion but also something surprisingly new. I've heard
Clarine
in numerous roles and own many of the anime she's done work on both in front of the microphone and in the production side of things. This is fascinating new ground for me.
My overall opinion right now is we just hit the jackpot! I mean, this casting choice is inspired. Good work
Funimation
!
Now it is your turn to tell me something. Do you want more of this accent? Do you fear
China's space-based weapons program
? Do you wish for a taste of that fortune cookie? Do you plan to post a comment?
It's
a trap
! (Although, would it be so bad to fall for him?)
Bye-ni!