From the
Geneon Universal Entertainment Japan
industry panel (think they've made the company name long enough?)
comes several surprisingly under-reported announcements
. Additional information makes these seem like full licenses too!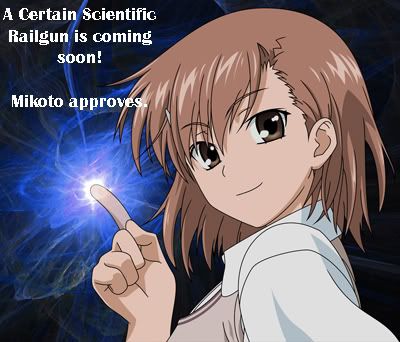 Apparently,
A Certain Scientific Railgun
/
Toaru Kagaku no Railgun
has been apparently licensed and marked for distribution via
Funimation
! Here's the quote from the remarkably vague report:
Black Lagoon, Hellsing, and Toaru Kagaku no Railgun will all be released by FUNimation in the United States, the latter of which is the only new announcement. High School of the Dead will be announced "sometime at this event," but when exactly is a "secret."
Follow ups came fairly soon though and now we have confirmation!
A Certain Scientific Railgun
is great all by itself, but
the new Black Lagoon OVAs
AND
the rest of the Hellsing OVAs
?!? Damn awesome news!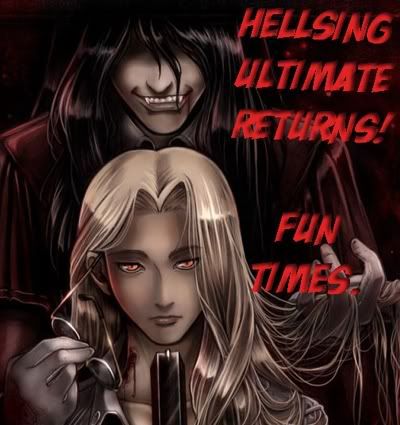 So that's a whole pack of new anime that will be coming to the US, via
Funi
, which hopefully means an English dub will happen for it. (Seems much more likely now that these appear to be proper licenses!) At the same time, I'm sure we don't have to wonder "wait, do they mean
the new Black Lagoon OVAs
and
the rest of the Hellsing OVAs
or just the old stuff they're already doing?" They've got them, don't worry!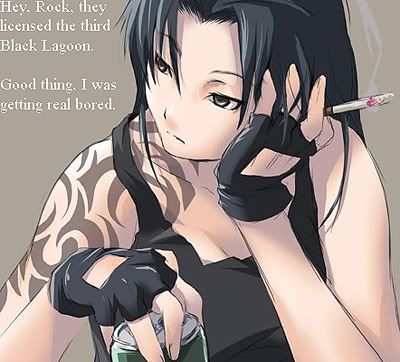 I figured they wouldn't bother to act like it's news if it were the old stuff and I was right.
Funimation
's
made some recent comments about big news and getting some shows fans were clamouring for
, and they weren't kidding. I believe we can be certain now that these fan-favorite (and profit-making) anime are about to be in our hands. The only questions really are "will we get steelbook cases again?" and "will we get awesome English dubs with the same casts" again. This remains a crucial quesiton, though hopefully one that will answered during a certain upcoming panel.
Also, the
Fate/Stay Night: Unlimited Blade Works movie
may be announced as licensed before the con is over! Not to mention
High School of the Dead
. Heck, that's going to be a first-run Hybrid release via
Sentai
! Plus a simulcast!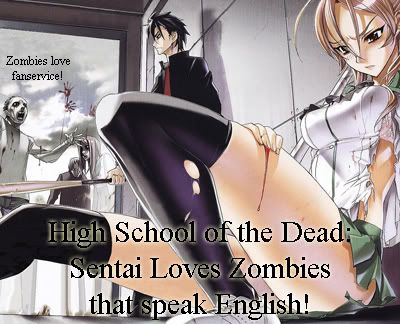 Ooh, things are heating up and I'll keep on bringing you my silly commentary on it! I'll also hopefully be able to report many more English dubs! Already, things are getting better for we English dub preferring fans!
Bye-ni!
*Update 1: An ominous line from
a live-blog of the events
:
10:48:56 For the dubs, we will discuss those with funimation but we don't want to
I'd like to think that is a miscommunication but if it isn't, then it would appear that the Japanese don't think English dubs are a good idea. (Fortunately, they'll be talking to the one R1 company that most strongly disagrees!)
*Update 2: Funimation confirming via Twitter that
Hellsing Ultimate 5-7
,
Black Lagoon and A Certain Scientific Railgun
are theirs!
Sentai grabs High School of the Dead, plans English dub.
Added more pics.
Holy Hannah, talk about a good day! Major fan favorites are coming back and we've some awesome new titles! I'm very excited and pleased by this turn of events, though I hope this doesn't completely ruin
Funimation
's upcoming panel! (Will they have anything left to announce?!?)
*Update 3: Should have checked my PMs (why aren't I getting E-mail notification of them?) because I have word from
Cliff
/
ExcelGenerations
:
A couple of the QA was wrong as well. Geneon said they WANT do dub all those shows they have to discuss. And also the dvd/blu ray question was they have the blu ray quality but it's up to the distributor if they will release.
So, Update 1's info is fooey. English dubs are desired!