ANN just posted so much win for Funimation it makes my head feel explodey!
Funimation
has licensed for simulcast (and probably more)
Shiki
,
Black Butler season 2
,
Sekirei: Pure Engagement
,
Legend of the Legendary Heros
and
Sengoku Basara season 2
!
Plus God loves us because they also got
Darker Than Black season 2
,
Shana season 2
, the movie and pretty much the whole franchise,
A Certain Magical Index
to go with the
Railgun
license and
the Trigun movie
! (And that last one will be out in theaters!)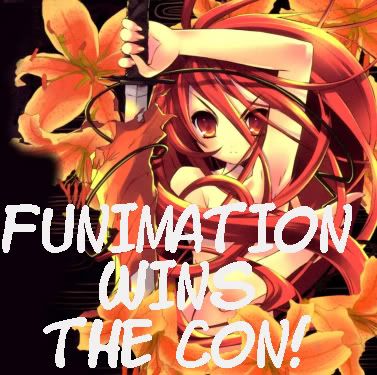 Oh God, I've wanted more
Shana
for so long and now, I almost feel like I could cry! Damn it
Funi
, if you dare to re-cast, I'll kill myself, take over hell and return from the depths as an unholy abomination that H.P. Lovecraft would have worshiped as the supreme being. Do not screw this one up!
Get me those OVAs and Omake too please! I'm so psyched!
And wow, I was certain
Darker Than Black season 2
was screwed out of a dub! I'm so happy to be wrong.
AND THERE'S MORE!!!!!!
They license rescued some of the all-time best
Geneon
series!
Texhnolyze
,
Ai Yori Aoshi
,
Armitage III
,
Haibane Renmei
, the
Hellsing TV series
,
Serial Experiments Lain
, and tons of
Tenchi franchise stuff
!
Special detail from the
Panel Report
:
According to data collected from their DVD surveys, the majority of anime fans are dub fans, so Funimation will continue to produce dubs for every title that they release. Interestingly, from the same surveys, it appears that although 51% of anime fans are ages 25+, and 40% are in the 18-24 demographic, the largest source of new fans is the 13-17 market.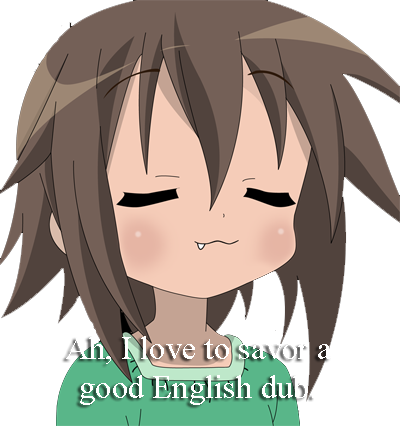 In your face sub-elite! To regular sub-fans, lets unite and help to grow the anime fanbase more and more!
Kiss the foot of Funi
! Heck, even racing fans are celebrating right now, since
Dale Earnhardt Jr. won the Nationwide
! (The universe is in a good mood tonight.)
There's so much win in this news, I can't even contemplate it right now.
I just feel. . . happy.
Thank you
Funimation
for truly making me feel good during a time of personal and familial hardship. You have given this fan a moment of pure bliss.
Bye-ni!