Back early by follower request! I'm your navigator
Richard J.
, once more bringing you commentary on English dub news, personal interests and the occasional bout of insanity. Today, I'd like to talk about
Aniplex's plans to bring out the Gurren Lagann movies
. (In case the one who asked me to talk about this wishes to remain anonymous, I'll leave out names.)
Normally, I don't care about compilation/re-telling movies for anime series and, in general, I ignore their release. However, this deal has implications that go far beyond these movies and WILL affect
at least 5 more shows
. Add to that a request from a fan, how can I possibly not talk about this deal?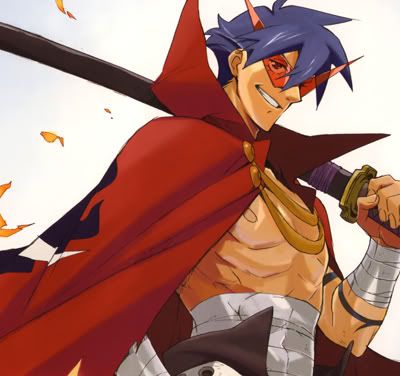 Tengen Toppa Gurren Lagann
was not as big a seller in the US/R1 as it could have been, largely due to
Bandai Entertainment
's rather complicated release structure. The multiple SKU releases, beginning with sub-only sets followed by both regular and special edition hybrid DVDs, actually triggered a backlash against
Bandai
and anime in general from Best Buy. Shortly after, anime shelf space was diminished. This is not a mere coincidence.
This loss of shelf space added to the decline from previous losses due to Musicland's bankruptcy. Anime in brick and mortar stores keeps declining and with it, the overall industry here suffers. This is ignored by fans who insist despite evidence to the contrary that online sales will make everything up. Well, we're about to see how wrong that is. Aniplex has entered into an exclusive deal with
Bandai
to sell
Tengen Toppa Gurren Lagann: Guren-hen
and
Tengen Toppa Gurren Lagann: Ragan-hen
on their new online store. Apparently, the previous
test with Kannagi
worked out for them. (Yes, I think it's clear that was a test and not a new business model for
Bandai Entertainment
itself.)
The Aniplex viewpoint on all of this boils down to wanting to hit the fans fast and hard to get as much money as possible. Note the MSRPs for these movies, they are what you'd normally expect to pay for hybrid release singles, the LEs are the price of a boxset. You can buy the
first season of Strike Witches off Right Stuf
for about the same price, less if the discount isn't as good with
Bandai
's site.
According to Chris Beveridge
, this isn't going over great with fans, especially dub fans. Some fans are happy about this, primarily R2 importers but they are not representative of the R1 anime consumer base.
Chris cites several important factors that are wrong with this exclusive deal, like how fans prefer to buy from a select few retailers (and
Bandai
's site is brand new, meaning it has no established customer base, remember that) as well as pointing out that site discounts can be smaller and shipping rates higher, plus you can't combine other shows you want with the order. To quote Mr. Beveridge: "it's very discouraging to be a fan (and even more so if you're a dub fan)"
Read that article, it's quite good and points out a lot of flaws in the Japanese approaches to the recent crisis in the anime industry. Also, he thinks this deal with Aniplex will only result in a couple hundred units sold directly to fans and seems to have doubts as to it's legitimacy as a business model. (Ooh, bet that'll PO some folks.)
Also, keep in mind this quote from the Executive Vice President for Aniplex's International Business Development Group, Hideki Goto:
Of course, it is ideal to make an English dub. However, there is also a trend that fans want to see new titles as fast as possible. Making an English dub takes a long time and costs a lot, so we may miss the release timing for future releases. If a title has a chance for TV broadcasting, it is possible to create an English dub, however, we don't plan to make a dub version and release it later.
Translation: "English dubs take too long and sub fans want everything right now so screw you dub fans! Unless you watch TV."
Do I even have to point out how few anime go on TV nowadays? Does that change the fact that a sizable portion of the anime consumer base prefers English dubs? No to both questions, you already know this line of thought is flawed. Aniplex is saying no to dubbing to satisfy the "we want it now!" crowd, who by all accounts want digital downloads, not DVDs to begin with!
The real goal is clearly to transition to a direct market approach where the Japanese companies just slap subs on their existing product and sell that to fans. What makes this deal so insulting is that if the Japanese hadn't been making it so expensive to license all those extras to begin with, maybe the market would be in better shape. For years, fans have been complaining about how the R1 release lacked features from the R2s. The English dub and sometimes English commentary was the primary value-added feature for releases over here and now that's being phased out in favor of Japanese release plus subs. (The prices will go up too as the Japanese consumer base continues to decline. Bandai Visual will live again!)
What can we fans do about the
Gurren Lagann movies
and the five shows that will come after them? Right now, not much because this is a situation in which the companies just can't grasp a basic truth:
English dubs are important even without a TV broadcast
. The Japanese are focused on hardcore fans right now and, in the process, are losing fans both here and in Japan.
Gurren Lagann
didn't do as well as it could have in mainstream release but it did far better than it will getting the niche treatment. Five more shows will follow and suffer because of failed logic. There's a recession going on, people are out of work and anime is being sold at far fewer places. The anime bubble burst because of declining shelf-space and the beginnings of the economic downfall combined with outrageous license fees. Unfortunately, the current round of experimentation to keep sales high while everyone's wallet's are empty seems hell bent on achieving this goal: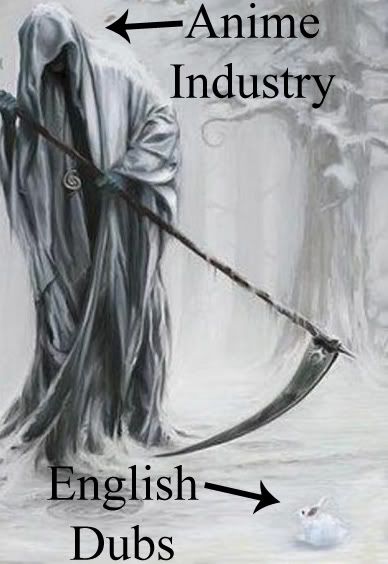 I predict that
Bandai
and Aniplex will not find this working out as well as they think it will. I hope English dubs will appear in the future but Aniplex at least seems mostly unconcerned about them. The prestige of anime is fading but there is hope, once the economy rights itself. (Of course, given the current talk of VATs and jacking up our electric bills, that may never happen.)
As an English dub fan, I am willing to fight this problem. I will support any company's plan to dub what was not dubbed before, such as
Media Blaster's plans with Dokuro-chan and other titles
. I'm not a big booster for
MB
, certainly not a fanboy as I've been accused of being for
Funimation
(meh, it fits more or less) but they've really earned my support recently. And, amazingly, despite a price drop that scared the crap out of me,
Kanokon will not be losing its English dub
! (Thanks
bal-anime
for letting me know about that. I didn't ignore your PM, I just wasn't sure how to fit in a mention here until now.) Buying series that were previously sub-only after they get an English dub is a great way to encourage companies to keep English dubs alive.
However, just buying newly-dubbed re-releases may not be enough. I want to help series and OVAs that are unlikely to ever get an English dub. I want to see anime get licensed that would never be licensed without special support. I want to promote anime in general and improve the public image of anime. (
Not that anything can help some idiots to get why anime rocks
.) There's something I want to try but I won't be able to do it for a while due to lack of money. However, though it may take a few years to implement: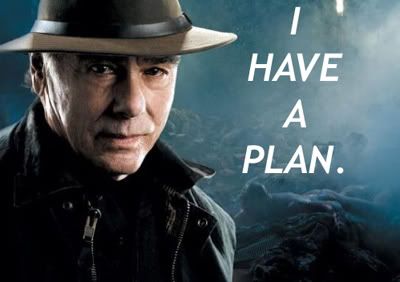 For now, no dubs for Aniplex's series that aren't on TV or licensed by other, more dub fan-friendly companies. Send out an E-mail, talk about it on forums, be prepared to deal with sub-elite but don't attack normal sub fans for just being happy about the releases. Fight on.
We can win. Never forget that your individual contribution REALLY DOES COUNT!
Bye-ni!