After a long week of cleaning, hauling garbage, moving furniture and suffering a few pulled muscles, another exciting and fat-free addition of
Blog of a Heretical Dub Lover
is here! (We apologize for the wait on a previously mentioned planned segment. Please join me Sunday, April 25th for Fan Love vs. Fan Hate.) I'm
Richard J.
, navigator for the blog and sole writing talent. (Any use of plurals such as "we" is solely for a cheap effect.)
Anyway, after returning home today from a long clean-up and having a lovely dinner with my family, I found out that
Section 23 had licensed the Golgo 13 TV series
! In the past, their licenses meant little to me but this one adds another planned dub to their short (but growing!) list of bilingual releases!
Golgo 13
is a 50 episode series from 2008-2009 and the first set will appear at fine online retailers (and perhaps by divine grace at Best Buy and other brick and mortar stores) in July, meaning that this deal has likely been in the works for a while and production may very well be under way already. Plus as a bonus there's no mention of outside partners from the info I've read, suggesting this is
Section23
's baby all the way.
The series has clear appeal beyond the average anime fan as well, giving this license and release a distinct chance of actually kicking butt in sales. The series is about an assassin for the love of cookies! People LOVE stories about assassins! I mean just look at how many movies, video games and books there are about them. I expect Duke "Golgo 13" Togo, the assassin lead, to do well over here. (Heck the manga's been in circulation since 1968 with 156 volumes so far in Japan and VIZ has started putting it out over here with 13 volumes out.)
All that's really left to do is settle on the marketing methodology. (I'd highly recommend trying for a TV deal with this one.) Oh and give us a really sweet cast!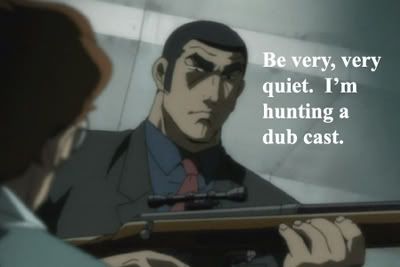 Crap. He'll wipe out the Texas VA pool by tomorrow. ;)
One way or another, I think this is a good move by
Section23
and while my money issues are slowly (very slowly) working themselves out, I've been hearing about
Golgo 13
for years and am interested in the anime. My family's legal/financial issues are continuing to threaten everything but I'm increasingly confident that this nightmare will end happily and the problems caused by one jackass con artist will end well. (Too bad I can't hire this guy to take care of the problem for me!)
Bye-ni!