Hello all of you out there who read my poorly written and not-updated-enough blog! Some of you already know this but awhile back, I was given the chance to write an official review for
ANN
(that's
AnimeNewsNetwork.com
for anyone who somehow has never heard of them.) That review is now up! Yippee-ki-yay, John McClane!
Here's
a direct link to my review
!
The experience of getting to write a review for an official and respectable source like this was great. I learned several things, like how you really shouldn't bug your editor when he's working and that I tend to repeat words and have some other issues. (I'll try to work on them and hopefully none of you have suffered too much from my blathering here. ;) )
I have no idea if I'll ever get to do something like this again. I'm not expecting to but I'd say yes without hesitation if asked. (I'd beg to do more but I'm not sure how effective that would be.)
Anyway, just making a mention since several of you encouraged me previously about this!
To think this is all because of some forum bluster on my part and probably some sort of pity on
Zac
's part. So this is all because I use the Internet!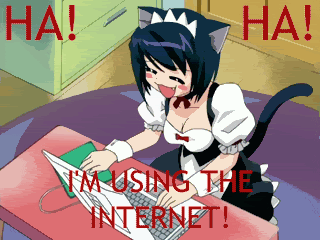 The Internet works in mysterious ways. Does that make it God?
Nah, probably not, but it is awesome that I got to do this. (Now I'd better stop writing before I start developing Swollen Head Explosive Syndrome.)
Next post will be much more serious.
Bye-ni!