A big surprise license today,
the final day of the Roll-Out Riot
as
Funimation
nabbed
Hetalia: Axis Powers
and
The Sacred Blacksmith
! This triggered a big "whoa, really!" from me the moment I saw it.
Lets go to
Hetalia: Axis Powers
for a minute. First, there were considerable rumors floating about that this series was explicitly NOT on
Funimation
's short list of things to license. (Of course, that rumor always sounded like crap to me since it claimed they were against it's "homosexual nature" or some junk.) Second, this series has generated a lot of fan love and
a lot of controversy
. Third and final, it's getting longer all the time and is pretty popular in Japan, which usually means expensive.
Apparently they love it anyway. Definitely a good choice given the huge fan buzz and I'm very interested in it myself as the whole concept of personifications of nations is funky. While there are other shows I'd have preferred to see, this is a great choice.
Next we have
The Sacred Blacksmith
, a fantasy adventure with a lady warrior protagonist is likely to do well and attract buyers. I'm a big fan of this genre myself and again, I've heard positive buzz about this series. (Also it's based on light novels and anything that brings more attention to such books is great.)
I'm not too surprised this one was on
Funimation
's radar.
Now, let's talk about the subtext around here.
First and foremost, if you like a really long running show that isn't also very short in episode run-time (like
Hetalia
) you may be screwed for now. Second, the
Geneon
sequels are likely still tied up in Red Tape. Third and final, maybe
Toradora
isn't the surefire winner title people think it is? 'cause everyone seemed to think it would be the Friday announcement and ho-hummed about it. Well, where is it people?
Answer: Either we're going to see it later rather than sooner on
Funi's
blog or it's already gotten by
Section23
, the only other company likely to want it. (Rumor has it a certain suicidal sensei is already in
MB
's hands.) As for others, with the market dying, probably too expensive. Got to love anime fandom! It eats it's own young then complains about depopulation!
So, thus ends the Roll-Out Riot.
I had hoped to see today be filled with a lot of licenses, especially sequels, (my sister hoped for several series like
Rosario Vampire
) but this is a very good and very surprising license day. Also, word from insiders has it that we can expect more license news in the next few months! (Let's hope.)
Today wasn't what it would have been if I were in charge but damn if they didn't do something surprising and awesome.
Riot Rating:
4 of 4.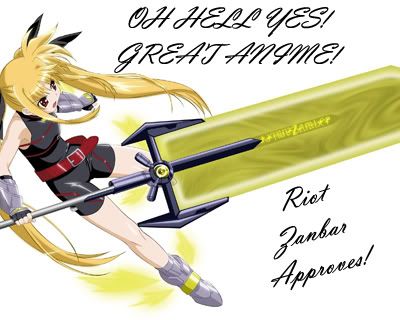 Well, that's it for me for now. Remember there's a review coming soon!
Bye-ni!