Okay, now I'm feeling the same annoyance as others.
Today
Funimation
, still a great company though clearly someone in marketing has completely misunderstood the meme of
Rickrolling
and thinks it is an enjoyable hobby,
announced more live action licenses
, this time two more live action movies.
Now, I was willing to be
VERY UNDERSTANDING
yesterday. Today I'm not so understanding. I'm sure
Kamui Gaiden
and
RoboGeisha
are someone's idea of awesome. (I must admit that
RoboGeisha
's name alone has me intrigued on sheer WTF? power. Everything's better with geisha right?) Still, I'm now
officially
disappointed.
I admit, perhaps anime fans have brought some of this upon ourselves through the constant infighting and biting of the hand that licenses for us. Perhaps collectively anime fans deserve some form of punishment for tolerating the wanton piracy and the fan-on-fan abuse, but at the same time are we not to be praised and rewarded for taking what money we have after government theft and living costs and spending that remainder on anime? Are we not consumers and fans who CARE about
Funimation
? Why must we be tortured like this?
Perhaps this is still just a lead up for we, the anime fans who made
Funimation
's
market share mastery
possible. Perhaps there will be anime tomorrow.
For today, unfortunately,
Riot Rating:
1 of 4.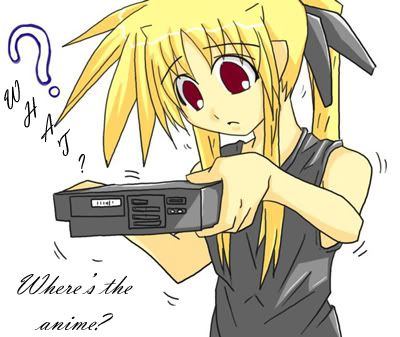 Again.
Will I be able to use the other ratings images? I'm beginning to wonder.
Bye-ni!
*
UPDATE
: Small addition: Here's a quote from the
Funi Blog's commentary section
from
Jackie Smith, Senior Public Relations Manager, FUNimation Entertainment
*:
Live-action films has done very well for us since we first started distributing them with Shinobi in 2006 and interest in titles such as these has only been growing in recent years. We have seen great buzz for all of these titles and that buzz translates to great turnouts at theatrical and film festival screenings and ultimately — at retail. Also, asian film fans have become anime fans as a result of seeing these films and learning more about FUNimation and our titles. All forms of entertainment are subjective, you may love or hate it but there are fans or detractors for every genre. Try to get along.
That being said – anime is coming. Some of you will be very excited and some of you won't – but your happy day will come.