I apologize for the lack of posting lately. There's been a perfect storm of legal writing and exam studying combined with severe technical difficulties. Hopefully, I should have some of this resolved by week after next.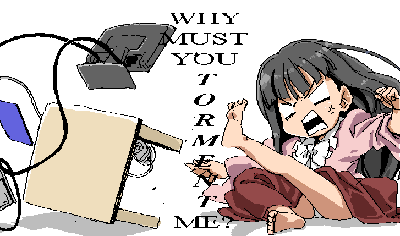 Maybe.
You see, the problem is I do my blogging on my desktop computer which is, unfortunately, reaching the end of its life. To keep from losing it entirely before I can ready a replacement, I'll be doing almost everything off of my laptop. So please understand that for a while after this post, my blog posts will lack pics (no image editing software on the lap) and may be a bit less complex than some of my previous blog posts.
However, I'll try to blog a bit more to make up for it.
Info on the contest, entry E-mail link and list of titles in the package will be made public March 14th. Since my Top 5 may not be to everyone's liking, there will be a special bonus that I'm sure will make the contest appealing to more folks.
What will that be? Eh, you'll have to wait and see! (Yup, I'm a terrible tease.)
Bye-ni!