Hello and welcome to my mad mad little world of English dub love! Today, it's nothing but dub talk from a recent cast list to a show on
Adult Swim
to the fate of second seasons licensed by other companies!
Note to sub-lovers, we're all anime fans here. You're welcome if you're not a sub-elite (someone who thinks all English dubs suck/are evil) and please, comment if you want to! Only spam gets deleted on this blog!
First up, lets talk
Golgo 13
.
Mania.com's Anime on DVD
section has
news on this license's dub cast
, giving those of us who can't buy everything right this second (though we try and get credit card debt as a result) a chance to learn who will be the numero uno sniper of the anime multiverse.
The answer is:
David Wald
Some niche fans might recognize him from this completely under-bought project called
Halo Legends
where he voices the totally minor character of
Master Chief
. Not that anyone has even a clue what I'm talking about but
Halo
is a really underground game no one plays.
Don't worry if you've never heard of it or the actor or that fire is hot and trees are pretty. ;)
Full cast list for those who hate clicking linkies!
Voice actor credits:
Golgo 13 - David Wald
Dave - Chris Ayres
Quaid - Jason Carroll
Flannagan - T. Postlethwaite
Captain - Justin Doran
Regan - Rob Mungle
Campbell - David Matranga
Wayne - Andy McAvin
Manager - Mark X. Laskowski
Natalie - Taylor Hannah
Howard - Andrew Love
Loren - George Manley
With - Kalob Martinez, Donnna Hannah, Luci Christian, Shanna Lea

So it looks like
Golgo 13
is going to have an interesting cast, sadly lacking in
Hilary Haag
though.
Next up for discussion, one of the few anime on
Adult Swim
,
Kekkaishi
!
When
Kekkaishi
got licensed,
I pegged it as a shonen show that would be relatively predictable
. Just a sit-back-and-enjoy-the-action kind of show. I'm currently enjoying the series' English dubbed run and I have to admit, I underestimated it a little.
Kekkaishi
is actually a better show on some levels than I thought it would be. Personally, I kind of expected something
Bleach
-lite, lots of spirit fighting and some humor and not much else. However, while the show doesn't rank up in my Top 5 list of anime, it's actually got a feel to it that I really like.
The action level is fine but what I really like about it is the humorous and unusual lead character. Yoshimori Sumimura, given voice by
Vic Mignogna
, is highly likable and surprisingly easy to relate to. His family and tradition obsessed grandfather drives him crazy, he only does his job as a kekkaishi because a certain girl also puts her life on the line to fight evil spirits and he'd rather be baking! (Heck, this show earns points just for that, the man has culinary talent.)
I like the dynamic that is in play with his friend and fellow kekkaishi Tokine Yukimura, played by
Laura Bailey
, the VA who got me into anime. Unlike some shonen fighting series, the hero is not unaware that men and women form relationships! Yoshimori actually likes Tokine and tries to show it and she actually appreciates his gestures. Sure, she's got some minor
tsundere
personality traits but mainly she's just unaware of what he's actually thinking most of the time. It's an interesting dynamic as both are technically rivals, Yoshimori's screwed up BADLY at his job in the past and doesn't seem to take it seriously and Tokine is so focused on her work that she can't seem to grasp signs from Yoshimori.
TVtropes.org
says it
needs more love
. You might want to give it a shot. It's not exactly blowing it's genre rivals away but it's getting stronger and there are hints of something more to come.
VIZ
picked a surprise winner.
Ah, English dubs. I love being able to truly immerse myself in a series through them. I'm sure
Kekkaishi
's DVDs will lack a separate signs/songs/onscreen text sub-tack like so many of
VIZ
's releases but at least I can enjoy the English cast to my heart's content.
Maybe I won't love everything about
Golgo 13
but at least
Section23
is giving me a chance to enjoy the series to the fullest by providing an English dub! At least they appear to still believe in English dubs, despite some rage-inducing choices.
Every English dub that gets made nowadays is a special, rare treat. Not every English dub is perfect, not every English dub is even necessarily good. They are, every one, important to the future and fate of the anime industry in my opinion though. So I am glad for them, even if they aren't all perfectly tuned to my tastes.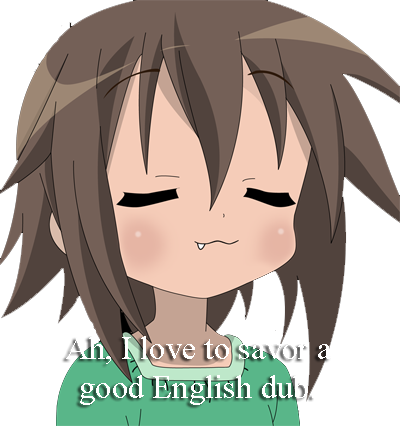 Now on to something I think many of you have been thinking about.
Funimation
's recent refusal to license second seasons for several of their shows. I'm not going to go into the individual merits of each choice or even go down a list.
What must be said and what must be understood however is that this is a situation that will only continue to get worse. Right now, the Great Recession is upon us, the fansub leeches have tricked fans away from legal and revenue producing choices and new and/or smaller anime companies think English dubs are an unnecessary expense.
We know the truth. We know English dubs are valuable and important parts of the anime industry and critical to growing the fanbase. We also understand and accept that they can be costly.
Fans must step forward to improve the situation. We must educate ourselves about bootlegs and actively fight them, we must use the legal anime streaming and download services but most of all we must unite as English dub fans especially to demand dubs! How can anime fans accomplish this?
I have some thoughts on this but I must wait to see how my families problems and how my own situation comes out first. Still, if
some random guy with criminal charges filed against him can get hundreds of dollars in donations to license and dub an anime
(no one is 100% clear on the legitimacy of his intentions) then couldn't someone with a less dubious background actually get a few thousand?
Think and reflect upon this question: would you donate money to a group that was legally backed and partially funded by an anime fan or fans?
Your homework is to comment on this and tell me what you think! Could you trust a fellow anime fan or fans with your money if they had a legally set up company/trust/nonprofit for the purpose of licensing, dubbing and promoting anime?
Please tell me your thoughts, for I believe that as with politics, it is the people/fans who must act to right the ship of state/the anime industry.
By the way, I've got a certain bloody angel's DVDs on their way to me along with another big and recently dubbed series that is apparently selling well. (Who knows what shows I could be hinting at?) More info on them later! Reviews of them too!
Bye-ni!