Hello to all of my followers! (You're still out there right?) Looks like once again,
the Fates
are smiling on we English dub fans! Once upon a time I made a heartfelt wish. It was a small and simple one but important to me.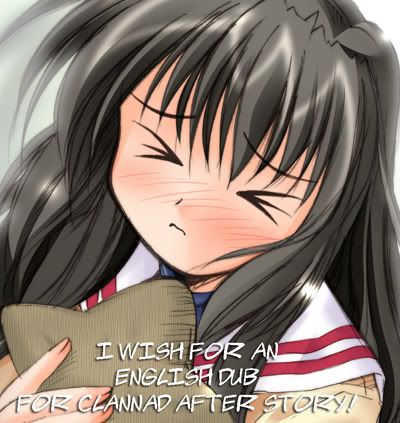 Now that wish has been answered.
Today, news came from
Izumicon via a post on Mania.com's AoD board
and
later ANN
, that
Clannad After Story
and the
Clannad movie
will be getting an English dub!
David Williams
will return to ADR directing to co-direct with
Janice Williams
! There will even be an exchange program like there
was for Clannad
, meaning once again English dub and sub lovers can live together in peace and harmony!
Well, okay, that's probably wishful thinking since there's always someone who has to spoil our fun with unnecessary fan hate but right now, I'm giddy with joy! I feel like Scrooge when he found out the spirits did it all in one night! By taking this course of action,
Sentai Filmworks
will please a hell of a lot of anime fans and prove once again that the anti-moe fanatics that attack all
Key
productions can't do much against the consumer might of dedicated pro-anime fans!
Remember, though the battle may be a long and difficult one, in the final battle good always triumphs over evil. Fan love will, in the end, prove victorious over fan hate! So take a moment my readers and congratulate yourselves on being part of why these English dubs and more are happening. You told them what you wanted, you bought what you could to show them your support and now English dub fans are getting a little encouragement!
Further,
Section23
licensed
Needless
, a series that from what I've read will become a personal favorite. (Crazy sci-fi action mixed with wacky hi-jinks and lolicon themes? Dudes, you know I'm there!)
Of course, that was a sub-only announcement, right? I mean, they usually are right?
Wait, hold on, let me
double-check that news article from ANN
. . . .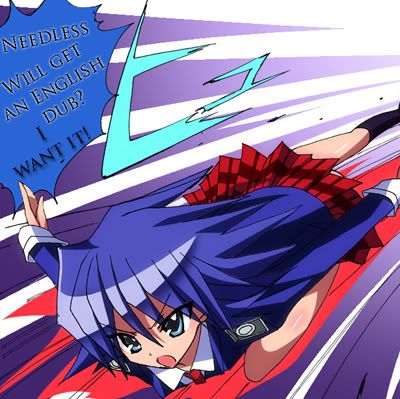 Ooh snap,
Needless
is getting an English dub too! (Okay, I didn't really need to check, I already knew. Did you?)
Truth be told, I barely even pay attention to license announcements that don't come from
Funimation
any more since most of them are sub-only but lately, the fragments of
ADV
have gotten my attention! Now, if they can just get into an all-dub-all-the-time mode of business, we'll be in full on miracle of anime time.
As long as I get what I want, I'm quite satisfied to be proven relatively wrong about the future of the fragments. (Though I think I'm being proven right about the need for English dubs!)
Speaking of
Funi
. . . have you been waiting for the English dub cast to be announced for
Rosario Vampire
or it's second season,
Rosario Vampire Capu 2
? Have you perhaps felt a sense of faint hope that the series might get the art box treatment? Are you pondering what I'm pondering?
I'll assume you want to know so here's a cast list for
Rosario
!
Moka: Alexis Tipton
Tsukune: Todd Haberkorn
Kurumu: Brina Palencia
Yukari: Monica Rial
Mizore: Tia Ballard
The Bat: Jerry Jewell
ADR Director: Jason Grundy (No relation to Solomon.)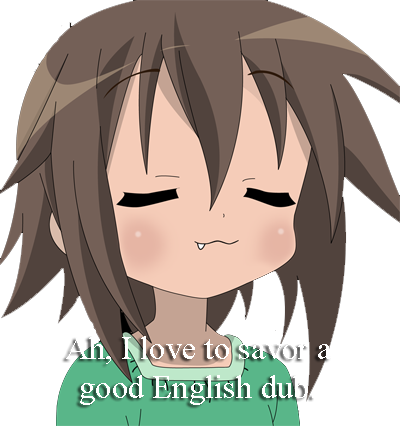 If you don't believe me, go to Funi's blog and check it for yourself! Oh and some additional details:
Rosario + Vampire
Available on DVD Spring 2011
•Art box
•Art booklet (subject to change)
•Contains episodes 1-13
Rosario + Vampire – CAPU2
Available on DVD Spring 2011
So we've got
another sweet art box and booklet coming our way like the one for Sacred Blacksmith
. (Ooh, will there be another centerfold? Dang
Funi
, how about one of these for
season 2 of Strike Witches
!)
Well, that's a lot of awesome English dub news from the big
Funi
wolf and the rising starfish of
Section23
/
Sentai Filmworks
! I love it when good news happens! Lately, it seems like a lot of good things are happening. I got a fair bit of money recently thanks to a family member repaying the loan I gave them previously, several anime I'm interested in are getting English dubs and I'm feeling slightly confident about my law school finals. Guess I should end this blog on a happy note right here!
Oh, wait, I think I forgot something. . . .
Ahh! Stop the death glare! I apologize about that!
Chrome Shelled Regios
also got it's English cast announced by
Funimation
and it will also get the spiffy art box plus bonus item treatment!
Casting News:
Layfon: Todd Haberkorn
Nina: Brina Palencia
Felli: Monica Rial
Sharni: Eric Vale
ADR Director: Chris Cason
And some additional info via blog post:
Available February 2011 featuring:
•Art Box – Holds Part One and Part Two (sold separately)
•Collectible Miniature Flag
•Contains episodes 1-12 on 2 discs.
Wow, today was a good day huh? I'm a tad bothered by the English cast repetition
Funimation
's got going but then again, their regular VAs are quite talented in my opinion so it's fine.
I'm seriously looking forward to more
Clannad
goodness! Guess I'd better start carving some starfish. (By the way, if you haven't gotten the first season yet, now
is
the
time
!)
Honestly, I am so happy for this news! I kept my faith until the very end and triumphed! I'm happy pink!
Bye-ni!