Greetings and salutations! I am your reject from San Angeles, your Navigator through the streams of anti-dub despair and a lazy bones too!
Richard J.
here with a bit of positive English dub news.
Today,
Funimation
announced the
English dub cast lists for Spice and Wolf and Nabari No Ou!
First
Spice and Wolf
: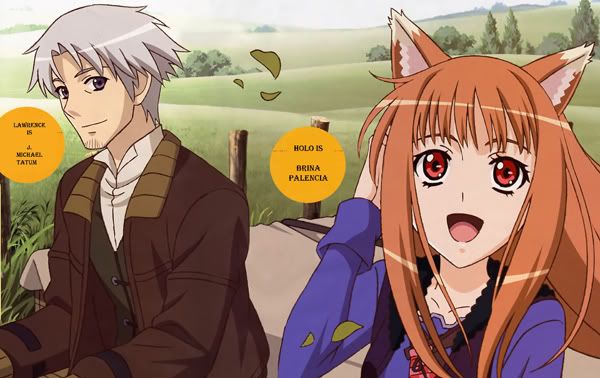 Holo–Brina Palencia
Lawrence–J. Michael Tatum
Chloe–Jamie Marchi
Nora–Leah Clark
Weiz–Eric Vale
Zheren–John Burgmeier
Now,
Nabari No Ou
:
Miharu-Brina Palencia
Yoite-Joel McDonald
Tobari-Eric Vale
Koichi-Chris Burnett
Yukimi-Rob McCollum
Raimei-Kate Oxley
I know what you're thinking: That's too much of Brina Palencia's awesomeness right? Our
heads asplode
from the sheer awesome!
There's lots more good news from
Funimation
out of Otakon but you probably already know about their
new licenses!
Now, go pre-order some great anime that's English dubbed from
Robert's Anime Corner Store
!
I'll send you off with a little fanservice.
I know, short and lazy blog is short and lazy but I've got some plans in the works. Hopefully, they won't suck.
Bye-ni!